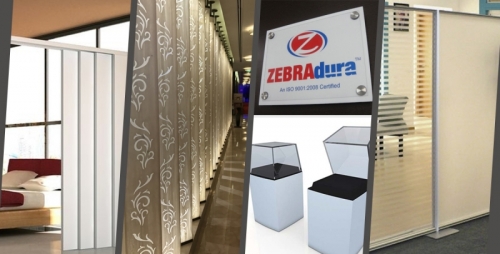 12 Amazing acrylic decor ideas for home decor and shop display
Ever wondered how to make your residential or commercial space (home, office or shop) look marvellous? As an interior decorator or fabricator you would not only save the cost but also use the right decor material to give your spaces a dream look. Acrylic sheets are perfect material to give any look be it elegant, jazzy, luxurious or trendy to your interior space. The reason to go for acrylic decoration is that it's easy to fabricate, less costly and available in a variety of colors unlike glass.
You will be amazed by these 12 acrylic decor ideas for home decor, shop display and office interiors (Use verified Tilara Acrylic sheets for better results).
Acrylic Decor Ideas
Ideas-1: Acrylic Desk Accessories:
Acrylic desk accessories like book holder, pen stand, etc. made from transparent acrylic sheets give it an elegant look and add charm to your desk. You can integrate golden or rose gold frames to add some glitter.
https://www.pinterest.com/pin/789044797221396234/
https://www.pinterest.com/pin/319544536052080566/
Idea-2: Acrylic Bar Cart / Wine Cellar:
Wine bottle storage and serving it in a manner is as important as the quality of wine you have. Your wine cellar and bar cart reflects your personality. To design stunning bar carts and wine cellars, use acrylic material. Your friends and guests will definitely envy you.
https://www.pinterest.com/pin/457608012140042054/
Idea-3: Acrylic 3D Wall Decor Sticker:
Variety of 3D sticker prints are a new trend in interior design. Laser-cut out in a variety of patterns like trees, animals, etc. are applied on the wall. As these types of 3D stickers are easily applied on a wall by anyone or DIY thing, these products are highly salable online or in retail stores.
Ideas-4: Acrylic Wall Frames:
https://www.pinterest.com/pin/74309462591059456/
Glossy and glittering wall frames have replaced old wooden and metal frames. Acrylic wall frames are glossy and add charm to your painting. Using laser carved or textured and various colored materials (for example gold dust or colorful balls) filled into the hollow frame can make it more charming and trendy.
Idea-5: Acrylic panel for decorative wall pattern:
https://in.pinterest.com/pin/444308319481801186/
https://in.pinterest.com/pin/623818985859222940/
If you don't want your walls to look boring, you can make it interesting by adding acrylic panels with decorative patterns which have been given laser cut treatment. Depending on your taste of decor, you can get the ornamental or any other pattern cut.
Idea-6: Acrylic Store Display:
https://www.pinterest.com/pin/419960734001499062/
https://www.pinterest.com/pin/583427326697435422/
Store displays made with transparent Tilara Acrylic Sheets are weather resistant and have better optical clarity.
Idea-7: Acrylic panel to create luminaire lighting effect:
https://www.pinterest.com/pin/406661041328644614/
https://www.pinterest.com/pin/649503577514837948/
Luminaire lighting effects are dazzling and it can be used at home, entertainment places, restaurants, clubs, etc. To create luminaire light effect, light is transmitted through pattern cut panels of acrylic sheet. One can cast any pattern or design on a surface by laser cutting the acrylic panels.
Idea-8: Acrylic white board cum partition:
https://justboards.com.au/files/images/31b52d2c0aea3ab0834d3ffb729dcbe8.jpg
Gone are the days of conventional white boards. Acrylic white boards are easy to use. It's easy to erase anything written on the acrylic board. Acrylic boards are also lightweight and economical.
Idea-9: Acrylic Name Plates:
https://in.pinterest.com/pin/73676143882810320/
https://in.pinterest.com/pin/828380925217019926/
Name plates give the first impression about people living inside home. It's a kind of logo of a family like one you have for your business. You can give any treatment to your name plate by using various kinds of acrylic sheets available in the market. Use frosted, colorful, transparent acrylic sheets from Tilara to make your name plates creative.
Idea-10: Acrylic Furniture:
https://www.pinterest.com/pin/149181806397417775/
https://www.pinterest.com/pin/890375788800831445/
When you think about furniture design, wood and steel comes to mind first. Want some unique and innovative furniture design ideas? Try acrylic furniture.
Idea-11: Acrylic shelf:
Fed up of corroded steel and faded wooden shelves? No worries as you have better options now. Shelf made of acrylic materials are more beautiful looking than wooden or steel. Use milky white acrylic or colored acrylic sheets to match with your walls. Transparent acrylic shelves will match with any color walls.
Idea-11: Acrylic light box:
https://www.amazon.in/House-Quirk-Plastic-Light-White/dp/B078SVRY71
Acrylic light box is used for a unique lighting experience at home or shop. Acrylic works as a light diffuser and gives different lighting experience. One can make a variety of light boxes to match with the decor theme and use at different places according to the requirement.
Idea-12: Acrylic Murals:
https://www.pinterest.com/pin/155303887474943151/
https://www.pinterest.com/pin/246923992110019554/
Acrylic murals are new age paintings. Different types of pictures or designs are printed on acrylic sheets that give an amazing look. Acrylic murals can be made in different shapes or used to cover the entire wall. See the above given pictures to know how they look.
Have you got any creative ideas? Write us to sales@tilarapolyplast.com. We'll include your ideas in this article.