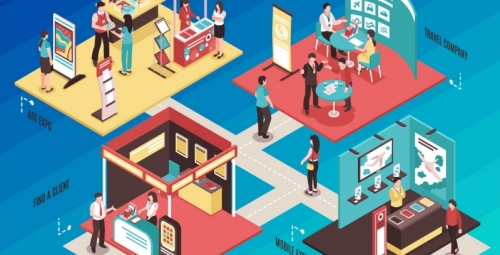 Exhibition Booth Design Ideas by the manufacturers of TilaraSheets
Exhibitions or trade shows are types of marketing which cost a lot more than other types of advertising like signage, digital advertising or newspaper advertising. If you can't drive enough footfalls to your booth or stall during the exhibition then be ready for the huge loss.
According to the Display Wizard Exhibitor Survey "An eye-catching stand is the most effective method for attracting attendees, according to 48% of exhibitors surveyed." So, the first thing to include in your exhibition marketing strategy should be to design a booth or stand which attracts an audience which is relevant to your business. Tilara Polyplast Pvt. Ltd. - manufacturers of TilaraSheets (polycarbonate sheets and GPPS/acrylic sheets) in India have pointed out a few exhibition booth design ideas which will be relevant in the future also.
Idea-1: Visibility of logo or brand name.
To create brand recall value, your logo or brand name should be properly visible and attractive. It is also important that people coming from any side can see the brand name or logo on the exhibition booth. So, logo or brand name design is the first thing you should consider to include in your exhibition booth design ideas. Most of the time exhibition places are in closed space so there's no natural light. So, your brand name or logo should be visible in the darkness in that case. Best way to make it visible is to make it glowing and large in size.
Brand name letters with LED panel or LED lightbox use can make your logo more attractive. Tilara Light Diffusion Sheets are long lasting and stable colour rendering sheets which can help you make an attractive logo for your exhibition booth.
Idea-2: Make your conference cabin look ubercool with a multiwall polycarbonate sheet.
Generally, when you talk about a conference cabin, it's four walls made of partition or MDF ply in the trade fairs and exhibitions. Conference cabin is a place where your prospective clients or visitors will come and sit. So, they stay there for a long time. Don't make their experience like they are in jail. Multiwall polycarbonate sheets from Tilara Polyplast give a modern look to the conference cabin. You can use colored sheets to match with your brand or theme colour of the exhibition booth.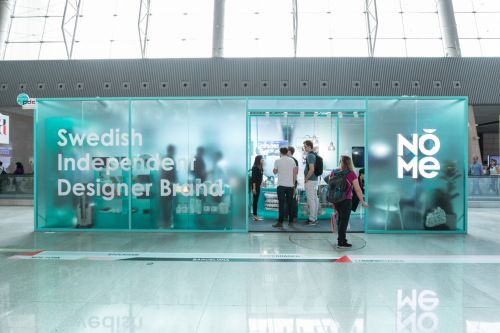 Idea-3: Easy custom furniture to fit in your exhibition booth or stall:
To make everything in line with the booth design and branding, you need custom designed furniture. If you go look for the ready made furniture in the home improvement stores or furniture stores, you might have to juggle a lot. Making custom furniture may cost you a hell of money. So our next exhibition booth design ideas include custom furniture. Making custom furniture from Tilara Sheets is easy and less costly. You won't believe it, but you can make a reception table or centre table for your trade show booth in half an hour. Yes, you have heard right. Here's how it can be done - https://youtu.be/Lx_5fIf17NA. Tilara sheets are available in multiple colours. You can match with your booth design theme or brand colours and choose one.
For more ideas about exhibition or trade show signs, lighting, etc. keep visiting our blog section - https://www.tilarapolyplast.com/blogs-1.html.
Tilara Polyplast Pvt. Ltd. is the largest manufacturer of Tilara Polycarbonate Sheets, Tilara Acrylic and GPPS sheets and Tilara Light Diffuser Sheets in India.
Image Sources:
https://i.pinimg.com/564x/28/c5/54/28c55478f0884fb1e6702e6eb14dbf69.jpg
https://i.pinimg.com/564x/68/3e/99/683e9953eb2367b9b35fa8d7334fa630.jpg
https://i.pinimg.com/564x/82/4a/45/824a4576195954efbebedbeb503a4261.jpg
https://i.pinimg.com/564x/b3/4e/60/b34e602445ff2faf3fabca9f13ecba30.jpg
https://i.pinimg.com/564x/08/51/b7/0851b7ff516dfd3dc95baf20199341f2.jpg