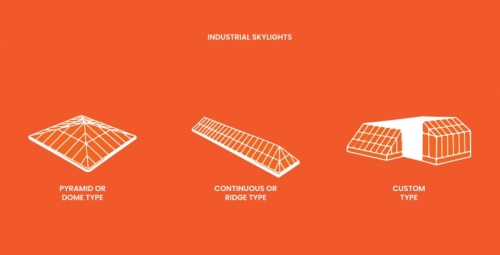 Industryal Skylight Ready Reckoner
When you want natural lighting to come at your workspace or residence, you need skylight. There are different types of skylights and installed as per the requirements of the user. Industrial skylights are installed differently than residential skylights.
Tilara Polyplast offers polycarbonate sheets which are used for residential as well as industrial or commercial skylights. We have prepared a ready reckoner for roofing experts to easily identify what type of skylight to install for which industry. Installing skylights also depends on the size of the space, budget and architectural planning.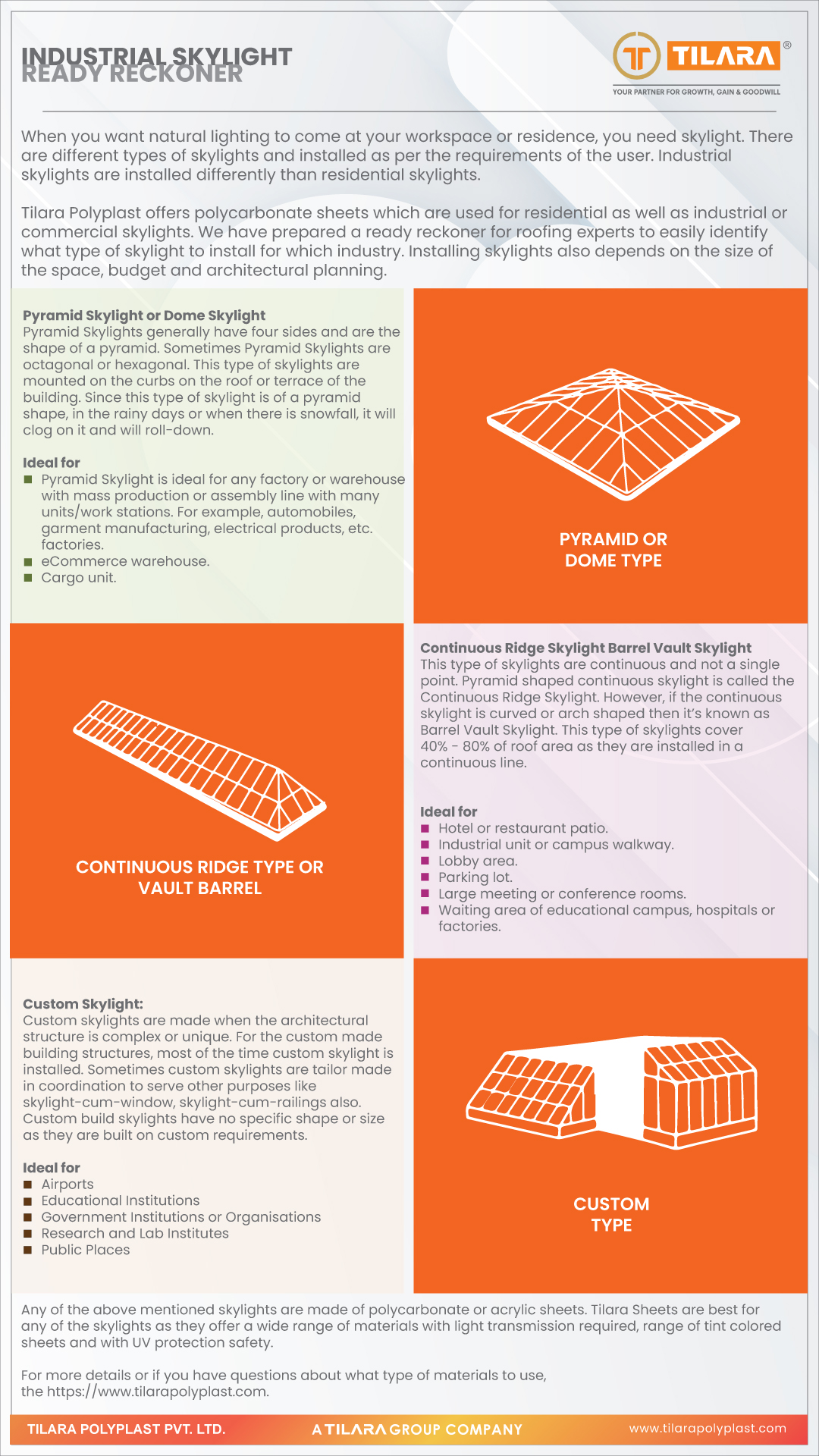 Pyramid Skylight or Dome Skylight:
Pyramid Skylights generally have four sides and are the shape of a pyramid. Sometimes Pyramid Skylights are octagonal or hexagonal. This type of skylights are mounted on the curbs on the roof or terrace of the building. Since this type of skylight is of a pyramid shape, in the rainy days or when there is snowfall, it will clog on it and will roll-down.
Ideal for:
Pyramid Skylight is ideal for any factory or warehouse with mass production or assembly line with many units/work stations.
Examples:-
Automobiles, garment manufacturing, electrical products, etc. factories.

eCommerce warehouse.

Cargo unit.
Continuous Ridge Skylight Barrel Vault Skylight:
This type of skylights are continuous and not a single point. Pyramid shaped continuous skylight is called the Continuous Ridge Skylight. However, if the continuous skylight is curved or arch shaped then it's known as Barrel Vault Skylight. This type of skylights cover 40% - 80% of roof area as they are installed in a continuous line.
Ideal for:
Hotel or restaurant patio.

Industrial unit or campus walkway.

Lobby area.

Parking lot.

Large meeting or conference rooms.

Waiting area of educational campus, hospitals or factories.
Custom Skylight:
Custom skylights are made when the architectural structure is complex or unique. For the custom made building structures, most of the time custom skylight is installed. Sometimes custom skylights are tailor made in coordination to serve other purposes like skylight-cum-window, skylight-cum-railings also.
Custom build skylights have no specific shape or size as they are built on custom requirements.
Ideal for:
Airports

Educational Institutions

Government Institutions or Organisations

Research and Lab Institutes

Public Places
Any of the above mentioned skylights are made of polycarbonate or acrylic sheets. Tilara Sheets are best for any of the skylights as they offer a wide range of materials with light transmission required, range of tint colored sheets and with UV protection safety.
For more details or if you have questions about what type of materials to use, visit the https://www.tilarapolyplast.com.