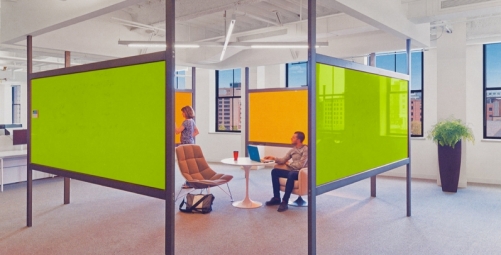 Why is partition important and best way to use it in interior design (with 5 partition design ideas)
In interior design, partitions play a very important role to separate the sections or spaces i.e. kitchen and living room or bedroom and study space, etc. In offices or commercial spaces, partitions are done to divide the desk space into individual workspace. It is also used to create private space for the boss or separate hierarchical departments.
Earlier, there used to be plain wooden material/ply or glass. Modern partitions are creative in many ways (not only from the point of design but also materials and function wise). Today, your interior designer will have a variety of creative partitions using vibrant colors, different materials and also have multiple functions. For example, you can use a partition as a bookshelf or decorative wall. Materials like Tilara Acrylic Sheets, Polycarbonate Sheet, and Multiwall Sheets are available in the market with a variety of textures, colors and transparency.
Here are 5 creative partition design ideas that will add charm to your interior or spaces:
Acrylic Partition Bookshelf:
When you have limited space at home or office, it's better to create multi-functional furniture and fixtures to manage the space. One of the examples is using your participation as a bookshelf. Bookshelf made of Tilara white acrylic sheet or textured acrylic sheets are interior design trends nowadays.
Laser Cut Decorative Pattern Design Partition:
Decorative pattern design is part of architecture in many cultures. Today in the modern arena, pattern art is still applied to decorate walls, doors, partitions, etc. The difference is the material and system used then and now.
Partition with laser-cut Tilara Acrylic Sheet gives an attractive and modern look at the same time. It's also lightweight and easy to move unlike wooden or steel partitions.
Semi-transparent Bathroom Partition:
Partition in the bathroom is created to separate the shower area from other dry areas. Using a glass partition is not a good idea as it's heavy material and can be dangerous if broken. Semi-transparent partition made from Tilara multiwall and acrylic sheet is very light weight and easy to maintain. One can use textured sheets to give a vibrant look.
Clear Sheet Partition for Cabin/Conference Room in the office:
Corporate offices with large spaces are divided into small cubicles or cabins by partition. With Tilara PC Sheet Partition you can give a contemporary look to your office.
Partition Whiteboard:
As mentioned earlier, partition is not only used for partition purposes. You can make good use of your partition. However, it depends on what type of material you use for it. For example, if you want to use your partition as a whiteboard, use Tilara Sheet to make your participation.
Apart from these ideas there are many creative partition design ideas. You can think of your own ideas.
Image source: https://www.flickr.com/photos/philmanker/7349699298/