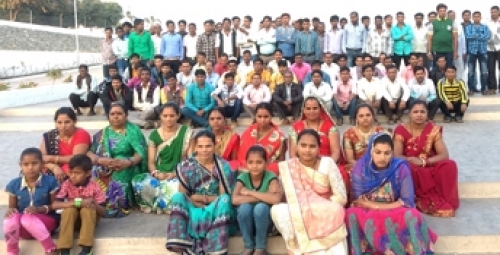 Tilara Employees on picnic at popular religious spot - Khodaldham.
We, at Tilara Polyplast Pvt. Ltd. plan regular motivational and refreshment programs for our employees to boost their morale and stay enthusiastic. On 15th of February, 2017 we organized a picnic at popular religious spot Khodaldham, Kagwad near Industrial Hub of Gujarat - Rajkot.
Khodaldham is a temple of Khodal Mataji, which is measures 299 ft long, 253 ft wide and 135 ft high, covering vast area near Jetpur city. Our outings began at early moring 7.00 O'clock. We left from Rajkot at 7.00 a.m. on the day and reached at Kagwad, Khodaldham near 8.30 a.m. All the employees joined with their family members for the outing. After taking breakfast we had 'Dhwajarohana' ritual at the temple. The ritual took place starting with a pooja and followed by music and dance festivity. All the employees including top management regardless of any discrimination enjoyed the ritual with full of entertainment and also spiritual acrivity.
Dhwajarohana' completed near 12:00 O'clock noon followed by Prasadam (Lunch) at the temple canteen.

All employees got the opportunity to refresh their selves and felt happy to be a part of the picnic. It became memorable event for the empolyees of Tilara Polyplast Pvt. Ltd.

For the more details of the spot, one can visit : http://khodaldhamtrust.org/
For more details about Tilara Polyplast www.tilarapolyplast.com