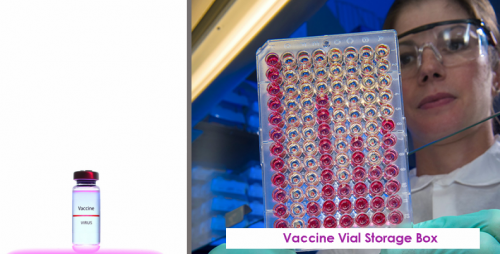 Vaccine vials and other medicine storage can be made sustainable with Polycarbonate Sheet containers
During the pandemic COVID-19, shortage of raw materials and medical equipment like syringes, vials and vaccine vials storage was seen worldwide. Some vaccine companies couldn't distribute the vaccines in their own countries or export due to this shortage. Storage of vaccine vials or any medicine plays a very important role to deliver them on time and safely.
Vaccine vials and some medicine are required to maintain a certain temperature and stored in a safe place for the effectiveness. For example, some corona vaccines can be stored at 2°C to 8°C (35°F to 46°F) temperature and some at minus 20 degree Celsius. Similarly, different medicines required different temperatures.
With the increased demand of such medical equipment and storage boxes for vials or vaccines, the manufacturers are required to find solutions and provide the sufficient supplies for the same.
Polycarbonate boxes are the best solution for vials and other medicine storage. Polycarbonate sheets are thermal resistant. Minimum operating temperature for continuous use in (minus) -30 Degree Celsius. (Source: 2°C http://www.stug.com.au/materials/engineering-plastics-properties/min-max-operating-temperatures.php). Not only that but it's also easy to cut, mold and fabricate to make anything out of it. Polycarbonate sheets are available in different thickness and colours. One of the main reasons to store your medicines in a polycarbonate box is that it's virtually unbreakable. So, it saves you from unnecessary waste or from destruction.
One of the world's leading polycarbonate sheets manufacturers Tilara Polyplast has capacity to supply 6500 MT materials per annum to medical packaging and equipment manufacturers. With easy and libral trade policies, Tilara offers quality materials to importers and manufacturers of the medical equipment packaging products.
More details for Tilara Polycarbonate Sheets to contact are given in the link here:
https://www.tilarapolyplast.com/polycarbonate-compact-solid-sheet.html.